Recipes
Easy Slowcooker Pumpkin Chili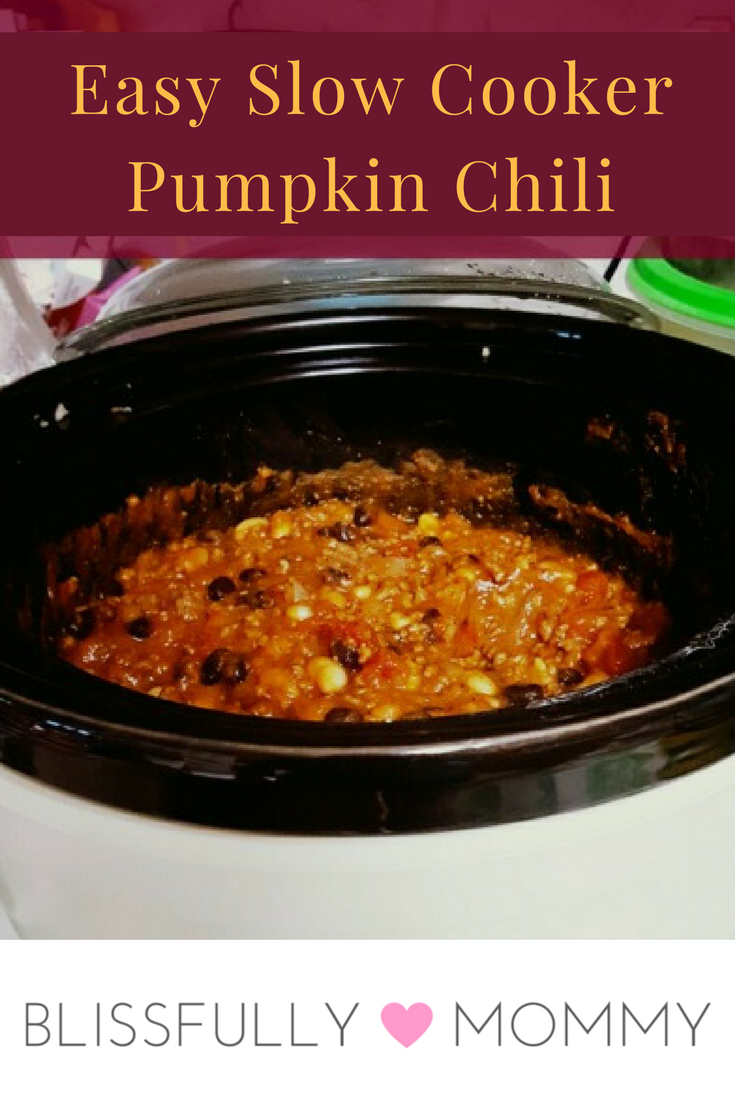 If you know me, you know I love all things pumpkin. I also really love chili, and before today, I had never made it before! So I decided to give it a whirl and whip up my own version of pumpkin chili. Turns out, it tastes pretty darn good and it was so easy!
I am new to the kitchen. Yes, for the majority of my children's lives we have eaten food that comes from a box or on a good day, the food bar at Whole Foods. As I move more fully into the role of homemaker, something that has always been a dream of mine to do, I am expanding my cooking horizons. By dumping food into a slow cooker. You've got to start somewhere, right?
Easy Slow Cooker Pumpkin Chili
Serves: 6           Time: 3.5 hrs
1 tbs olive oil
1 medium onion, chopped
1lb ground beef or turkey
1 15ozcan pumpkin
1 15oz can diced tomatoes
1 small can of corn, drained
1 15oz can black beans, drained and rinsed
1 15oz can great northern beans
2 garlic cloves, minced
2 tbs chili powder
1/2 tbs salt
1/2 tbs pepper
3/4 tbs brown sugar
1/2 tbs pumpkin pie spice
Add olive oil to pan, saute onions and ground meat until meat no longer pink. Drain.
Mix dry ingredients in small bowl- chili powder through pumpkin pie spice.
Transfer meat & onions into the slow cooker. Add pumpkin, tomatoes, corn, beans, and garlic. Stir well.
Add mixed dry ingredients to the slow cooker, stir well.
Cook on low for 3 hours.
ENJOY! May be served with shredded cheddar & sour cream on top.
For a spicy kick, add chopped peppers.
Let me know what you think!
Tina Bekkali
Hi there, I'm Tina and I created Blissfully Mommy as a place to share and celebrate the ups and downs of motherhood. In between those dirty diaper moments you learn to laugh, love, cry, and find bliss in the little things like a yummy recipe, easy style tips, or a Pinterest binge! I hope this blog inspires you to cultivate your own version of mommy bliss.